Projects

Canola Oil Transload Facility
Canola Oil Transload Facility
Containerized Dry Bulk Handling Project
Fairview Terminal Expansion
Duke Point Expansion
Centerm Expansion Project
Phase 1
Phase 1
Phase 1
Overview
Stage 1A Project
Stage 1B Project
History
Phase 1
Phase 1
Canola Oil Transload Facility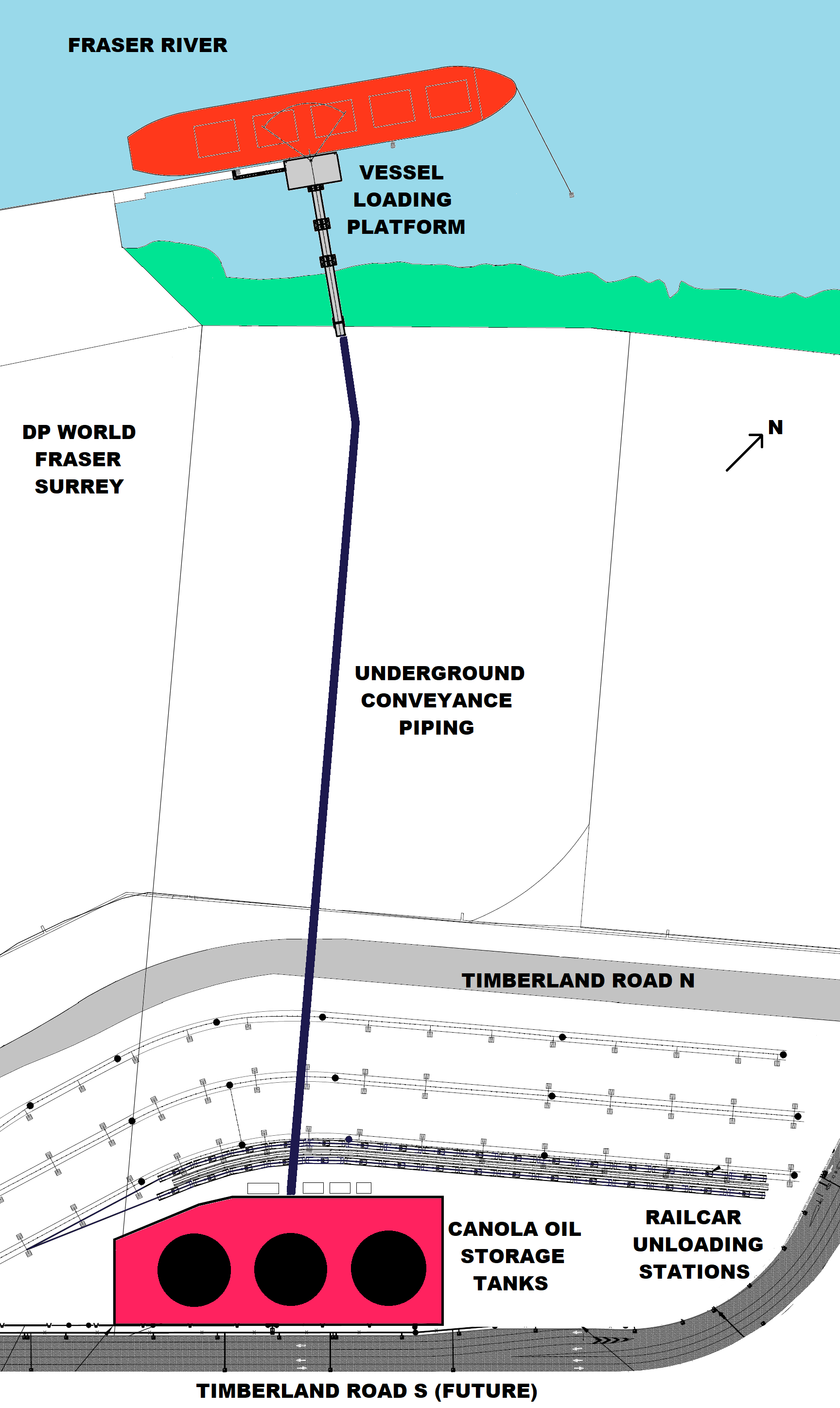 Project Description
DP World Fraser Surrey Inc. proposes to redevelop a portion of their existing Fraser Surrey Terminal and Berth 10 located at 11060 Elevator Road, Surrey, BC to function as a canola oil transload facility. Redevelopment would result in a canola oil throughput capacity of approximately 1,000,000 tonnes per year.
The Project broadly consists of the following components:
Canola loadout terminal at Berth 10, including construction of a concrete marine access trestle, loading platform, and a catwalk connection between Berths 9 and 10 supported by roughly 40 piles total (approx. 35 in-water)
Construction of ancillary loading deck and platform infrastructure, such as a marine loading arm and upgraded marine bollards and fenders
Installation of two rail spur tracks (one replacement, one new) for rail receiving and unloading, including construction of railcar bottom offloading stations, unloading pumps, piping and control cables
Three carbon steel 15,000 metric tonne capacity storage tanks (18m high, 37m diameter)
Elevated tank foundations, with associated ground improvement works
Vessel loading pumps
Containment area with liners, precast walls, and foundations; and
New fire water loop with six hydrants
Installation of below grade canola oil transmission and recycle lines to connect storage tanks to the marine trestle
Development of ancillary facilities including, control building, Motor Control Centre, security facility and vehicle parking
Various associated utility installations, relocations and removals
LINKS
Link to Canadian Impact Assessment Registry
Project email address
Feedback form
Public engagement and notification materials
Canola Oil Transload Facility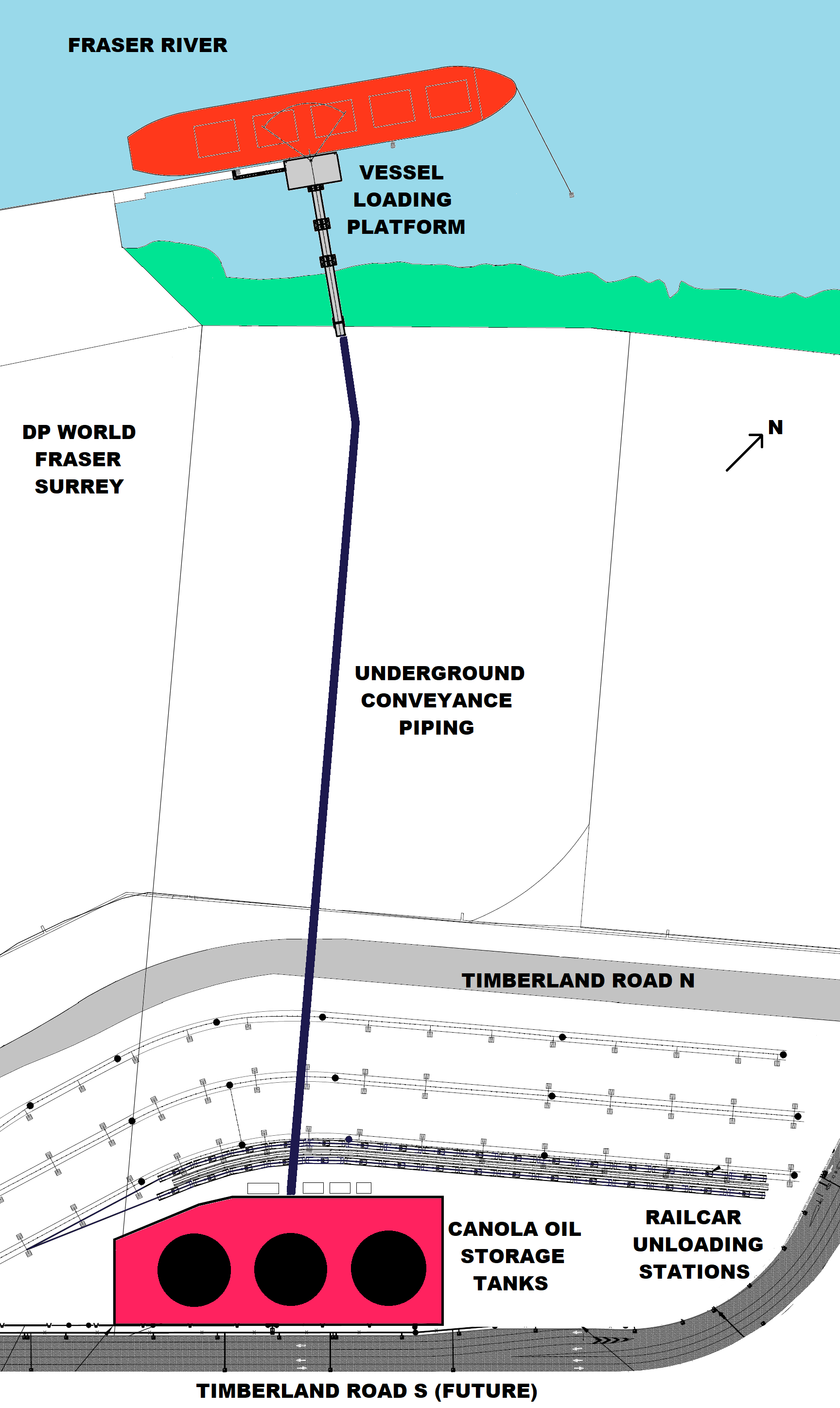 Project Description
To accommodate the rapid growth of canola oil production across the Canadian prairies, DP World is constructing a new Canola Oil Transload Facility at its Fraser Surrey Terminal. Canola oil will arrive by railcars where it will be unloaded into storage tanks before being pumped into bulk carriers for export to global markets.
Key project components include:
32 railcar unloading stations
3 canola oil storage tanks
Underground conveyance piping
Berth access trestle
Vessel loading platform
Containerized Dry Bulk Handling Project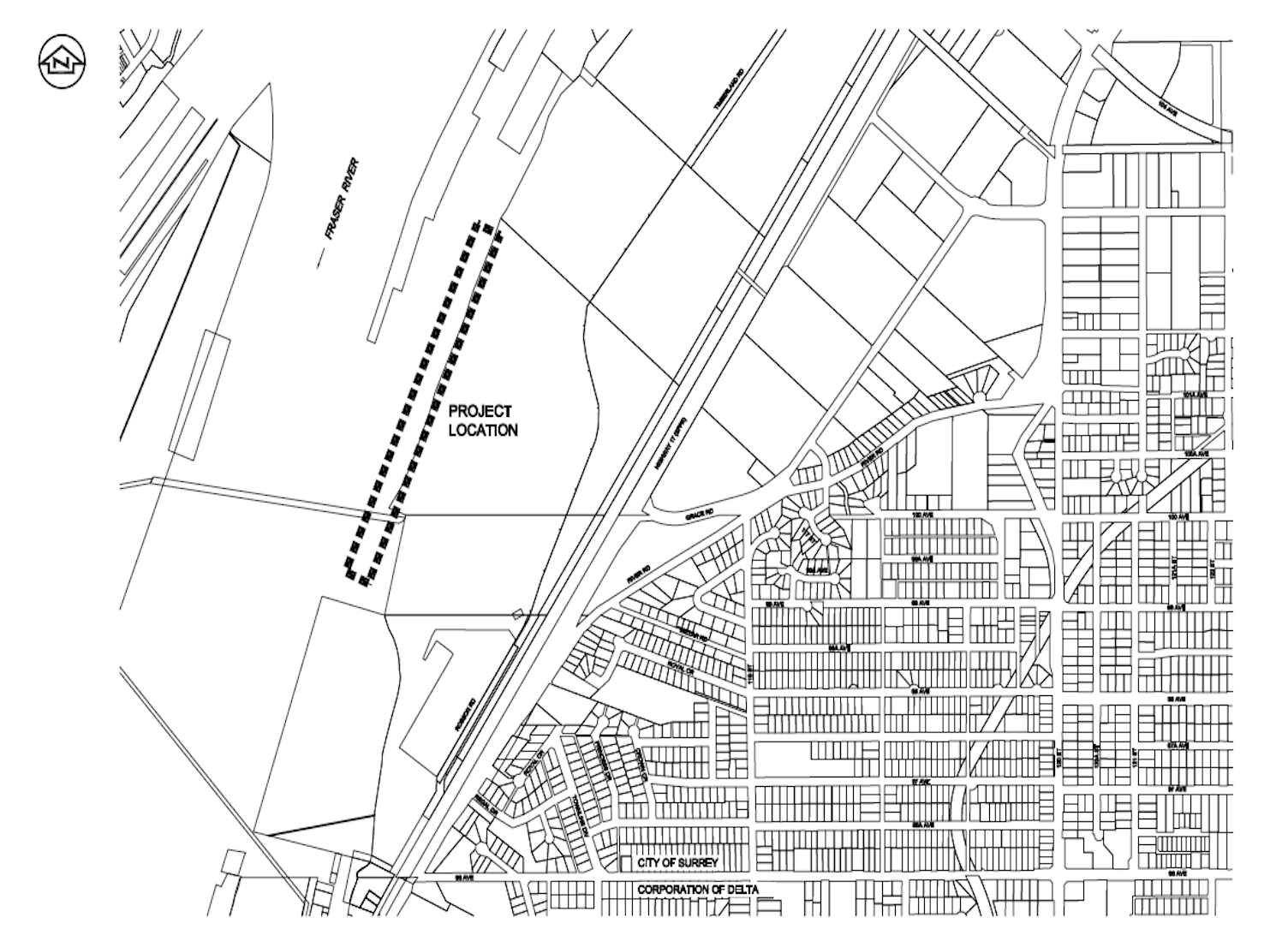 Project Description
DP World Fraser Surrey is proposing to utilize specialized revolving heads on up to three existing gantry cranes in order to facilitate the handling of containerized dry bulk cargoes at their DP World – Fraser Surrey Site. DP World anticipates handling a wide range of containerized dry bulk cargoes, which include, but are not limited to copper concentrate, potash, zinc and lead concentrates. The utilization of the specialized revolving heads would allow cargoes to be handled more efficiently. A mobile dust suppression unit fitted around the rim of the vessel hatch would emit water mist to prevent dust from escaping the hold of the vessel.  
Project Activities
   Acquiring new revolving heads for the existing container gantry cranes –the new heads would be capable of rotating a specialized container, positioning it directly within the hold of the vessel and opening it to empty the contents. 
  Temporarily replacing the standard spreader heads of the gantry cranes used for unloading containers with the specialized revolving heads.

 

  The specialized containers are informally referred to as "rotainers" or "rotoboxes" that open on the top rather than on the ends as conventional containers do.

 

  Existing equipment in the container yard would be used to move the "

rotainers

" in the same 

manner as existing container volumes.

 

  Fitting a mobile dust suppression unit around the rim of the vessel hatch –the unit would emit a vapour wall to prevent dust from escaping the hold of the vessel.

 

  The mobile dust suppression unit would connect to existing water supply services on site.

 
Initial containerized bulk cargoes would be copper concentrate. DP World anticipates handling other containerized bulk cargoes through the terminal. Bulk cargoes that may move through the terminal include but are not limited to: 
   Copper concentrate (initial volumes)
   Potash
   Wood pellets and chips
   Lead concentrate
   Zinc concentrate
Please note – all dry bulk cargoes will be fully contained until they are discharged from the vessel. All processing occurs offsite. DP World Fraser Surrey is responsible only for transferring the dry bulk shipment from the container to the hold of the vessel. 
What is copper concentrate? 
Copper concentrate is the first commercial product of the copper production line and is composed of approximately equal parts of copper, iron and sulfide. Concentrates are the raw material for all copper smelters, which by processing it obtain an impure form of metallic copper, anode or blister copper, which is later used to produce high purity refined copper. The production of concentrates implies the crushing and later milling of the ore down to a particle size allows releasing copper by flotation. The concentrates from different regions have approximately between 24% up to 36% of copper. Copper concentrates are then submitted to a final filtration and drying process to decrease the humidity to 8-9%. 
The mobile dust suppression unit will be used to mitigate any "fugitive" dust. 
How does the mobile dust suppression system work? 
While fugitive dust is not anticipated during the loading operations, a mobile dust suppressions system will be used as an additional preventative measure. The system will be installed around the hatch of the hold in the bulk vessel hold prior to unloading of the containers. This system acts as a barrier to further mitigate any fugitive dust emissions from the loading process by continuously spraying a fine mist of water fog from each of the four sides of the ship's hold and across the top of the ship's hold during the inverting of the container. This system requires less water than a conventional water spray system and is estimated to use approximately 40 litres of water per hour. It is compatible with the range of products under consideration to move through the terminal. 
Will there be increased noise and construction? 
This project does not require physical works or construction, and increased noise is not anticipated. 
Below is a link to the Public Engagement Considerations & Summary Report, in which questions from the community are addressed:
Fairview Terminal Expansion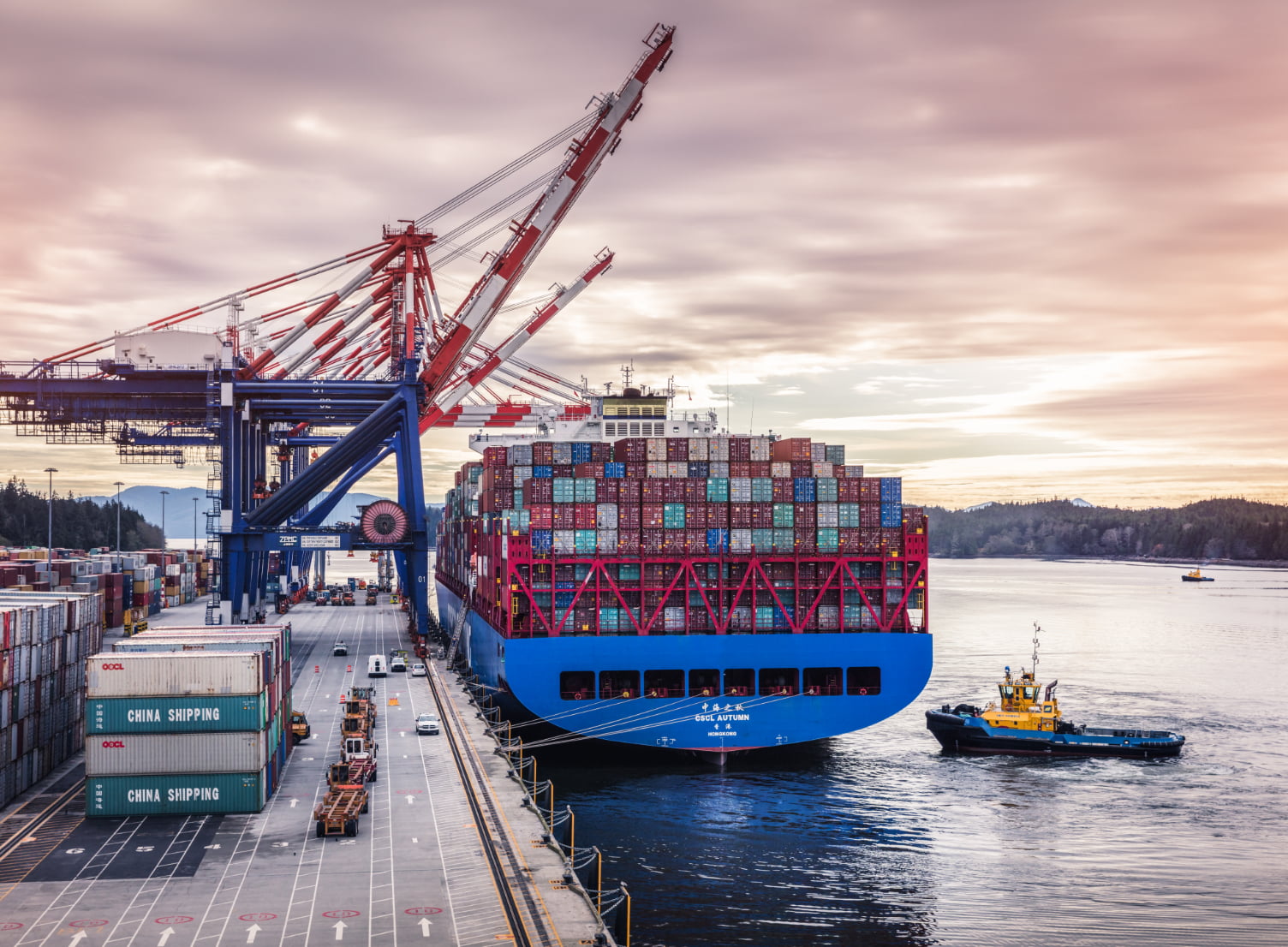 With the fastest connection from Asia to North American markets, Prince Rupert plays a critical role in getting Canadians the goods they need.
The Fairview Container Terminal was the first dedicated intermodal (ship to rail) container terminal in North America when it began operation in 2007. The terminal has grown to become a major trans-Pacific trade gateway with a global reputation for speed, reliability and reach.
DP World Prince Rupert has been operating the Fairview Container Terminal since 2015. Since that time, cargo volumes have grown more than 35% from approximately 700,000 TEUs (twenty-foot equivalent units) to over 1 million TEUs last year. Significant investments in personnel, terminal infrastructure, and equipment have been made to achieve this growth which supports local direct and indirect employment as well as increasing volumes of Canadian and international trade.
To support further growth and market demand additional investments in the Prince Rupert Fairview terminal are underway in two stages:
The Stage 1A Project, which is currently underway will increase the terminal's sustainable capacity to 1.6 million TEUs

The Stage 1B Project, which is currently in the planning and permitting phase will further increase the terminal's sustainable capacity to 1.8 million TEUs
The growth of the Fairview Terminal in Prince Rupert is projected to result in a substantial increase in direct employment as terminal volumes grow.  
TERMINAL EXPANSION
Annual terminal throughput capacity will be increased to 1.8M TEUs by 2024
EQUIPMENT & INFRASTRUCTURE
New terminal infrastructure: building, equipment and technology
TERMINAL RECONFIGURATION
Berth, Yard and Rail capacities optimized for 1.8M TEUs annual throughput
The construction of the Stage 1A Project is currently in progress.
Key project components include:
Expansion of the container yard to the south of the existing terminal

The installation of Canada's largest quay crane (completed in June 2021)

Investments in additional mobile equipment

A direct connection to the Fairview-Ridley Connector Corridor to eliminate container truck traffic through downtown Prince Rupert.
The Stage 1A Project is forecast to be complete mid-2022.  Additional information on the Stage 1A Project and the Fairview-Ridley Connector Corridor Project can be accessed through the links below.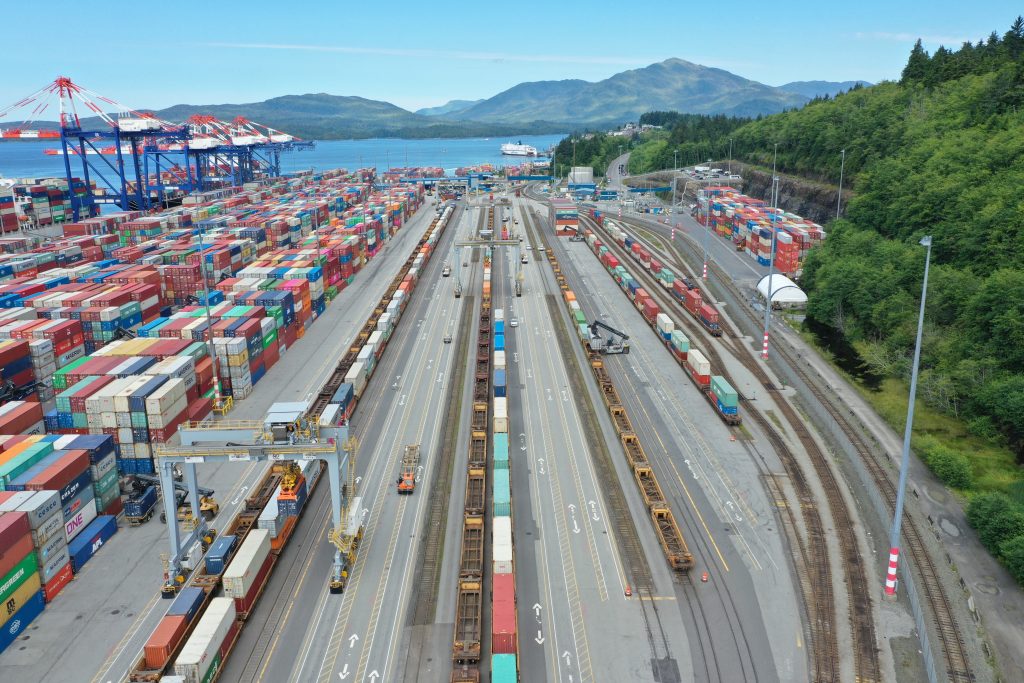 The Stage 1B Project is currently in the planning and permitting stage.  
Key project components include:
Relocation of the terminal site services, maintenance, and administration facilities

Expansion of the intermodal rail yard

Expansion of the container yard 

Expanded personal vehicle parking for terminal employees

Reconfiguration of terminal access, CN rail line and Southern portion of Fairview Small Craft Harbour 
Construction of the Stage 1B Project is planned to commence in 2023 with completion scheduled in 2024.  Additional information on the Stage 1B Project can be accessed through the links below.
History
Fairview Terminal Expansion
The original terminal had a sustainable capacity of 500,000 TEUs per annum. However, within a few years of opening, annual volumes approached 800,000 TEUs.
As a result of the significant growth in volumes the next phase of development, referred to as Phase 2 North, began construction in February 2015 and was completed in late 2017. 
The Phase 2 North Expansion included a second berth north of the existing berth, land fill at the north end to create additional container storage, additional rail track in the intermodal yard and upgrades to the container yard. 
The Fairview Phase 2B project follows the 2017 completion of the Fairview Phase 2 North Expansion, which increased the terminal capacity by 500,000 TEUs to its current capacity of 1.35 million TEUs. The Phase 2B Projects, which includes Stages 1A and 1B, will deliver a 40% increase to the container yard capacity, a 21% increase to the intermodal yard and a new 4-lane truck gate which will connect the terminal to the new Fairview-Ridley Connector Road (Fairview-Ridley). The Fairview-Ridley project being delivered by the Prince Rupert Port Authority, will remove all terminal truck traffic from downtown Prince Rupert, and provide a more efficient connection to industrial port facilities located on Ridley Island.  The Fairview-Ridley corridor provides additional rail siding infrastructure to support efficient rail operations and the forecast growth in trans-Pacific trade through Prince Rupert.
More information on the individual components Phase of the 2B Terminal Expansion can be found by following the links to Stage 1A and Stage 1B.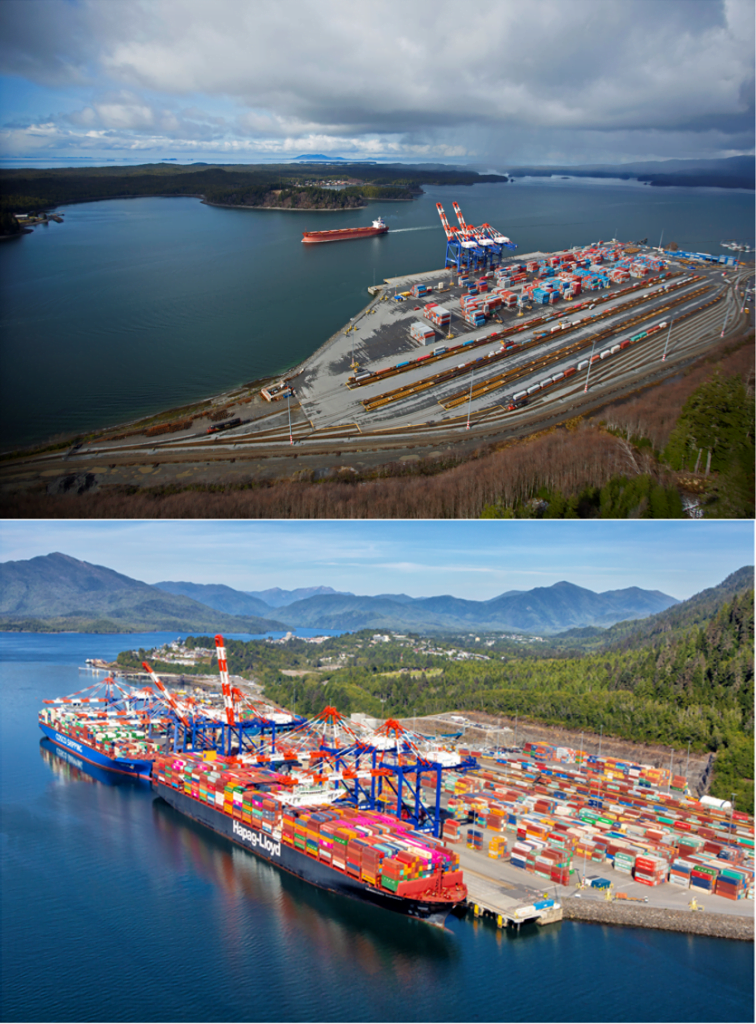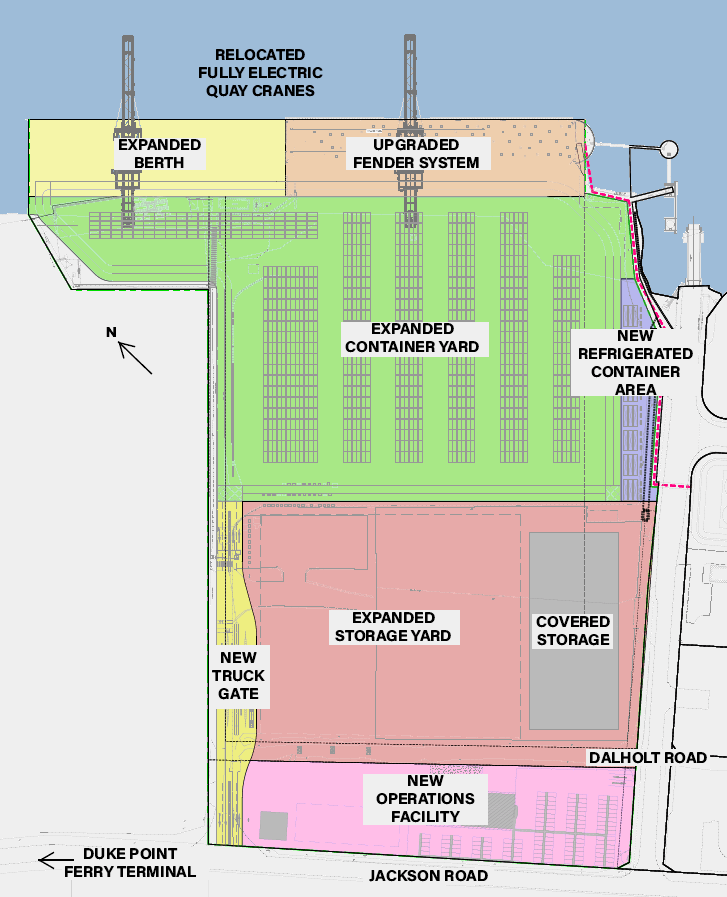 The proposed expansion of Duke Point Terminal will provide exporters and importers with direct access from Nanaimo to global markets. The project has received financial support from the Government of Canada through Transport Canada's National Trade Corridors Funding (NTCF) as well as support from the Government of British Columbia's Ministry of Transportation and Infrastructure through the Stronger BC: BC's Economic Recovery Plan under the Regional Port Enhancement Program. In collaboration with the Nanaimo Port Authority, DP World is committed to expanding economic capacity by enabling the efficient flow of trade both to and from Vancouver Island.
Key project components of the proposed expansion include:
Extension of the existing berth from 182 to 325 metres to allow international vessels

Replacement of the existing diesel quay crane with 2 fully electric quay cranes

Expansion of the container storage area including the introduction of refrigerated containers

Addition of covered storage capacity to accommodate a wider range of products

Construction of additional facilities including a new operations building and truck gate
The project is currently in the permitting and design phase with construction expected to start in early 2023.
Project links:
Duke Point Exansion Impact Assessment Agency of Canada
Virtual Event Announcement Regarding the Duke Point Terminal 
Contact email adress: DPWNAM.Projects@dpworld.com
INCREASED CAPACITY
to provide importers and exporters with direct access from Nanaimo to global markets
OPERATIONAL EFFICIENCY
The proposed addition of two fully electric quay cranes will help optimize operations
REDESIGN & RECONFIGURATION
The proposed improvements will increase the multi-purpose paved storage yard from 15 acres to 30 acres
COLLABORATION & COORDINATION
Working closely with partners and local communities in the design and delivery of this project.
Centerm Expansion Project (CEP)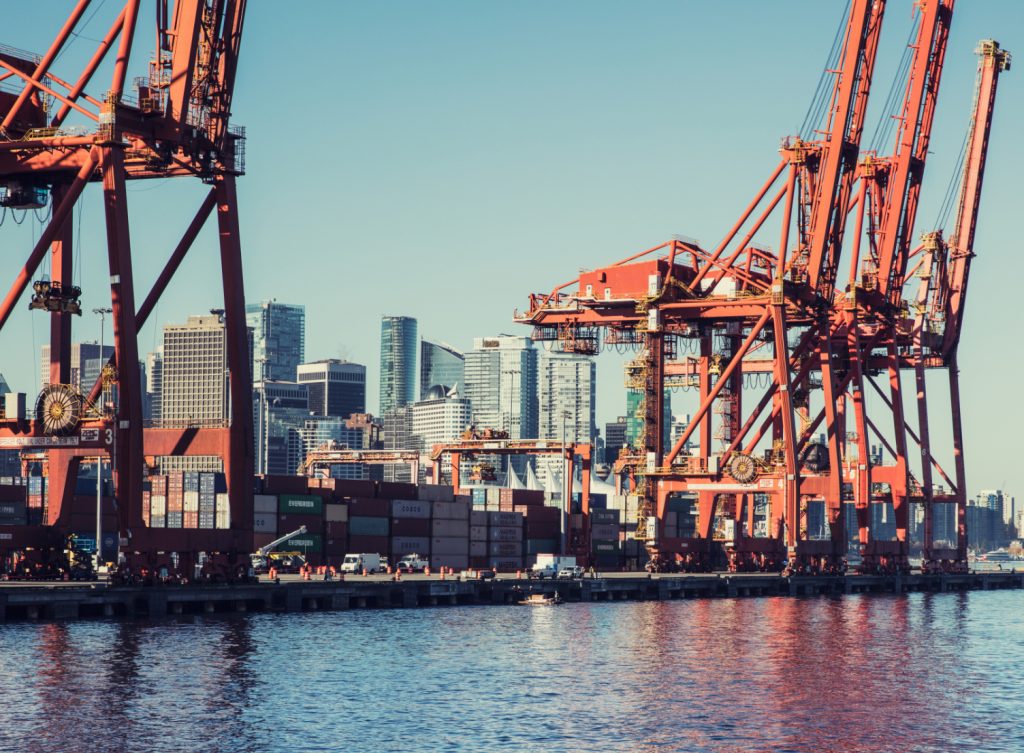 The Centerm Expansion Project is an ambitious undertaking that will add much needed capacity and increase efficiency to better serve our customers' needs. This project also includes the South Shore Access Project, which will see the remodeling of our terminal access. We are growing so we can meet Canada's increasing demand for goods shipped through the Port of Vancouver.
Two new Super-Post-Panamax cranes will increase the terminal's annual container handling capacity from 900,000 TEUs to 1.5 million TEUs by 2022. The berth length will be increased by 75 meters (12% increase) and 2 Neo-Panamax Quay Cranes will be added. We are also enhancing the capacity of the Gates, Container Yard (27% increase) and Rail Yard (88% increase).
Increased terminal capacity.
Reconfiguration of the terminal intermodal yard will extend the existing tracks.
Improvements to port roads will improve goods movement and access along the entire South Shore port area and will eliminate road and rail conflicts in the terminal.
INCREASED CAPACITY
Annual terminal capacity will be increased to 1.5M TEUs by 2022
RECONFIGURATION & REDESIGN
Reconfiguring the terminal and increasing its footprint by approximately 15 per cent will increase container throughput capacity by 70 per cent
BETTER CONNECTIVITY
Changes to Waterfront Road to create a continuous port road from Canada Place to McGill Street will reduce port-related traffic on local roads in the Downtown East Side and East Vancouver
EQUIPMENT & INFRASTRUCTURE
Replacing two legacy quay cranes with modern super-post panamax quay cranes and the installation of five new electrified rail mounted gantry cranes
No projects have been added for this location. Please check back later.
No content has have been added for this project. Please check back later.