Ports and terminals are the gateways to smarter, more efficient and more secure global supply chains. DP World Canada is hard at work reimagining the future, with step-change terminal handling innovations designed to streamline our global network of ports and keep things flowing.
We operate a strategically located global network of ports and terminals in developed and high-growth markets. We invest in smart, industry leading technology and innovation to enhance efficiency for our customers and partners with our scale of business, expertise and knowledge that help us to offer the best ports and terminals solutions.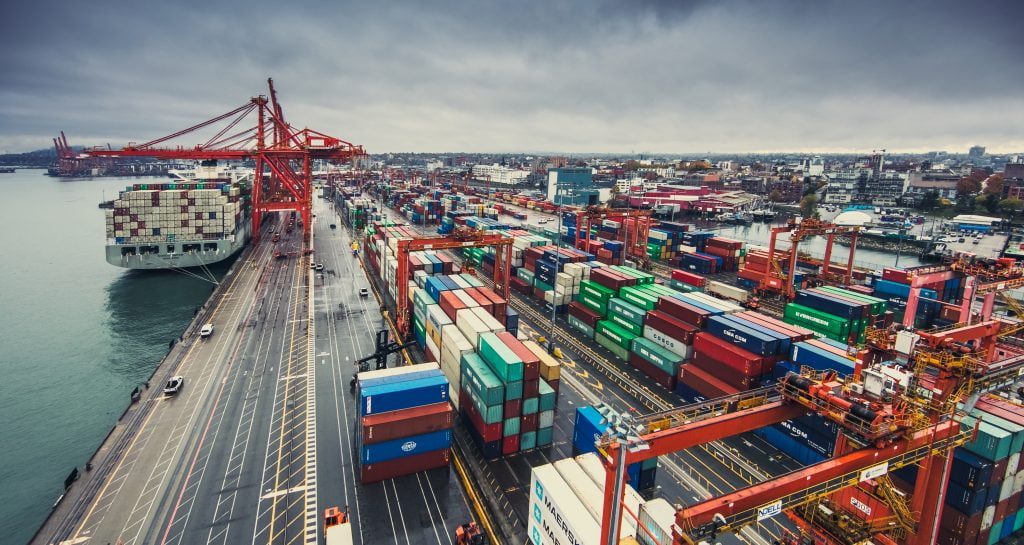 Prince Rupert
The fastest connection from Asia to North American markets. Strategically situated on the great circle route from Asia, Prince Rupert is also North America's deepest natural harbour. As such, the Prince Rupert Container Terminal is able to comfortably handle the world's largest container vessels in a highly efficient manner. We also offer 18,000 ft. of on-dock rail for fast, efficient handling.
DP World Prince Rupert Terminal Specifications
79 ACRE TERMINAL
79 acre (32 ha) terminal that was specifically designed as a high volume intermodal container transfer facility.
2 CONTAINER BERTHS
2 deep sea container berths: depth 17m, total length 800m.
7 QUAY CRANES
7 Super post panamax quay cranes along with 18,000ft of on-deck rail capacity.
6 RTGs
6 one-over-three ZPMC/Noell Rubber Tire Gantries (RTG).
Vancouver
In Vancouver, DP World Canada operates the 83-acre, full-service container terminal, the west coast hub for international trade. As a key gateway for Trans-Pacific trade, and only 30 miles from the US border, the Vancouver Container Terminal offers secure, efficient access to Canadian, Asian, and US markets. 546 reefer plugs ensure perishable cargo is properly maintained at the right temperature. As a multi-transport hub, DP World Vancouver also offers direct connections to road and rail.
DP World Vancouver Terminal Specifications
83ACRE TERMINAL
83 acre (34 ha) terminal boasts investments of over $200 million in infrastructure, equipment and operating systems.
2 CONTAINER BERTHS
2 container berths: depth 15.5 m., total length 647 m.
7 QUAY CRANES
7 quay cranes (4 ZPMC Super post panamax – 22 wide, twin 20 capable, 1 Fantuzzi post panamax – 19 wide, and 2 MGM – 17 wide).
19 RTGs
19 one-over-five ZPMC/Noell Rubber Tire Gantries (RTG) – introduced in 2006.
Nanaimo (Duke Point)
Our DP World Nanaimo terminal offers exclusive access to Vancouver Island markets. With 2 berths, break bulk services, and a full range of cargo handling equipment our Nanaimo (Duke Point) terminal offers a fast and direct connection to and from Vancouver.
DP World Nanaimo Terminal Specifications
6 HA OF PAVED STORAGE
And 2 additional ha of unpaved storage space.
2 BERTHS
1 deep sea berth, with a length of 170m (558 ft) and depth alongside of 13.5 m (44 ft) and 1 barge berth with an additional 82m (269 ft).
2 CRANES
1 gantry crane and 1 mobile harbour crane.
Fraser Surrey
DP World Fraser Surrey is a large, multi-purpose marine terminal located on the banks for the Fraser River in the greater Vancouver area of British Columbia, Canada. This multi-purpose facility is situated in excellent proximity to major highways, railways, the Pacific Ocean and industrial areas located only 25km from the US border.
DP World Fraser Surrey Terminal Specifications
7 BERTHS
7 congestion free deep-sea berths including one dolphin berth and a hydraulic barge ramp for 1575m of berthing capability.
3 QUAY CRANES
3 cranes with lifting capacities of up to 70 metric tons and adjustable lifting heads.
190+ ACRE TERMINAL
Over 190-acre terminal footprint including 154 acres (63 hectares) of yard area.
3 SHEDS
3 sheds with 30,900 m2 (330,000 ft2) of covered warehouse storage space for weather sensitive cargo and agricultural product storage.
Saint John
DP World Saint John offers container and non-containerized cargo handling services with over 500,000 square feet of bonded warehousing capacity including container stuffing/destuffing, breakbulk, stevedoring and other cargo handling solutions, all within a designated on-terminal facility. Multiple weekly liner services offer competitive transit times to over 500 ports in the Americas, Europe, Asia and Africa.
DP World Saint John Terminal Specifications
4 SHEDS
4 sheds with 51,995 m2 (559,670 ft2) of covered warehouse storage space and 112,000 m2 (1,205,558 ft2) of fully bonded open area
82 ACRE TERMINAL
Multi-purpose terminal with 9,000 feet of on-dock rail.
4 CRANES
4 post-Panamax quay cranes with capabilities to work up to a 21 container-wide, 10,000-14,000 TEU capacity vessel.
2 BERTHS
1 berth with 369 metres, draft 12.2 metres and 1 berth with 345 metres, draft 17.1 metres.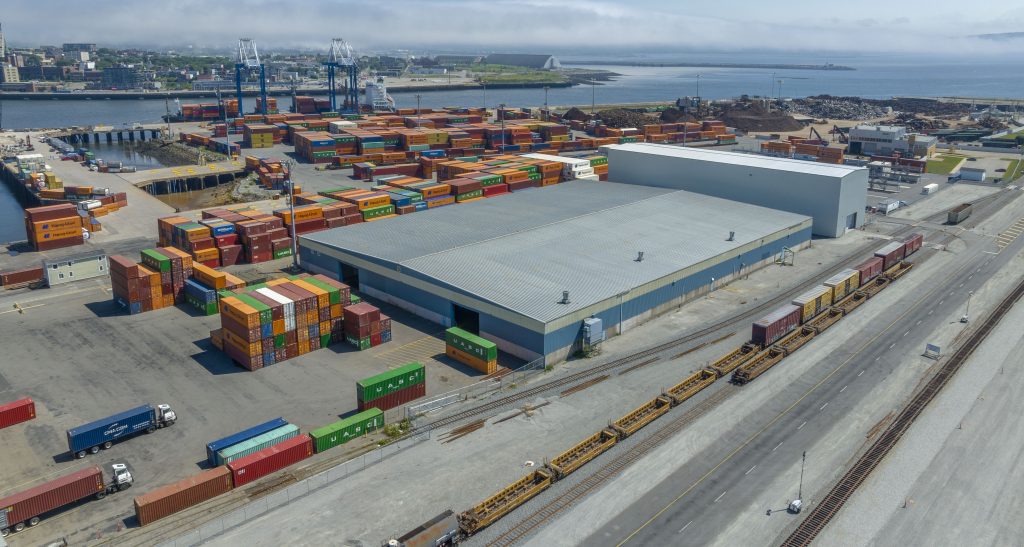 Container Services:
Prince Rupert Terminal
Evan DesChamp, Terminal Manager
250-624-2124  ext.2188
Vancouver Terminal
Sergei Smirnov, Terminal Manager
604-252-2420
Nanaimo (Duke Point) Terminal
John Darbyshire, Terminal Manager
250-722-2290
Fraser Surrey Terminal
Ian Patterson, Terminal Manager
604-581-2233 ext. 7007
Saint John Terminal
Daryl Bettle, Terminal Manager
506.696.0347
daryl.bettle@dpworld.com
Stevedoring:
Vancouver Island Operations & Duke Point
John Darbyshire, Terminal Manager
250-722-2290
Fraser Surrey Terminal
Ian Patterson, Terminal Manager
604-581-2233 ext. 7007
Mainland Stevedoring Ro/Ro and Bulk
Saeid Rezazadeh
604-252-2502